Commercial and assortment structure planning
An advanced assortment planning process is key to profitable retailing, as it provides the framework for converting strategic and financial objectives into detailed, customer-focused range plan
It's the quantitative support for collection development, segmentation, product lifecycle. It also represents the basis for performance monitoring and sales maximization actions during the season.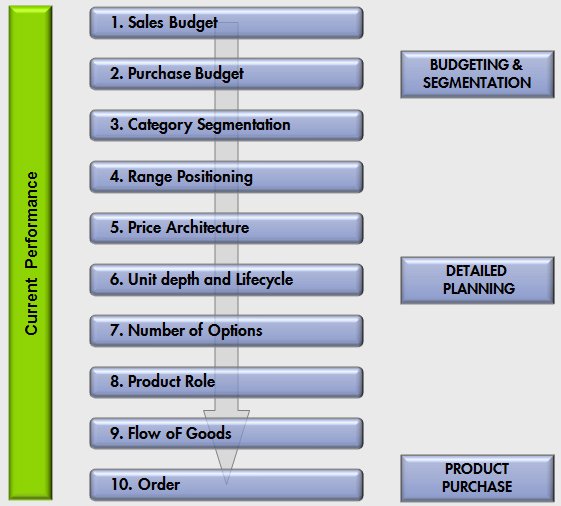 We apply a 10 step Best Practice process using our proprietary planning system (see our systems section for more detail), to ensure that top-down and bottom-up planning is conducted in a straightforward and systematic manner

Key input for Retail Planning is Store Grading model which needs to take into account qualitative aspects of distribution networks, store size and sales value to drive product mix, number of options and unit depth

Our Retail Assortment Planning methodology links your strategy to seasonal budgeting and tailored assortment structures, and ensures planned Best Sellers are identified and quantified accordingly for each store, store grade, and region.

For e-commerce, assortment planning follows more complex rules. Digital channels offer the opportunity to build multiple paths to purchase. The same option can be reached following new arrivals, functional, emotional, seasonal, convenience paths. Customers can create bespoke journey according to their profile.

Critical KPIs emerge for best practice range planning: duplicated vs non duplicated options, number of duplications per option, number of paths per option.
Omnichannel Range Planning – designing the retail experience

Our colleague Agnieszka Adamkiewicz is expert in developing best retail planning methodology and in supporting the client's team through the validation and implementation process.
Range and Assortment Planning are now available as Outsourced Service
Ispira's areas of delivery:
> review and plan sales, margins and stock
> review and plan range structure and product mix
> review and plan the price architecture and flow of goods
> establish product roles and sales potential to allocate the correct unit depth
> develop plans by store cluster and store grade
> use of our planning application to support range planning
> develop bespoke algorithms to execute innovative planning process