Retail Intelligence SS19 28th Season
Ispira undertakes quantitative and qualitative audits to compare market positioning, trading strategy, performances, the shopping experience. We use proprietary methodology to audit at low cost 100% of the offer of the target stores and then use it to represent the real competitive landscape.
We operate in 4 areas: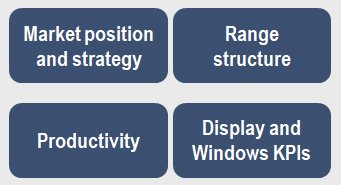 Our services provide quantitative data, in depth analysis and guidelines to grow compare KPIs of competitors and benchmarks.


Ispira's areas of delivery:
> overall brand positioning
> market segmentation
> comparison year on year
> width and depth of offer by product category
> product density
> price architecture
> monitoring of store window
> detailed photographic coverage
> mystery shopper
> store heat mapping
> international study tours
> audit of display KPIs, product density, store fixtures

Subscribe our Spring Summer 2019 - Retail Intelligence 28th edition for any market.
For more information please contact our colleague Stephanie: info@ispira.com