Workshops and events
Ispira attended TXT Thinking Retail Forum di TXT - October 2016
Ispira delivered a presentations at the TXT Group Thinking Retail Forum on October 11th, 2016.
Subject of the presentation: Retail Planning - integration of strategy, product, distribution channels
Ispira at Milan Retail Forum - November 2014
several meetings and demos at Milan Retail Forum to demonstrate the potential of Retail Analytics, retail experience Intelligence, innovative KPIs.
Get further details about the potential of In-Store Analytics
4th retail seminar - Ispira and Sistema Moda Italia
Digital Channels and Purchase Drivers in Retail
Tuesday 15 May 2012
download the press release (Italian)
The 4th retail seminar has been focused on multichannel retailing which represents a great opportunity to improve identity, interact with community, maximize performances.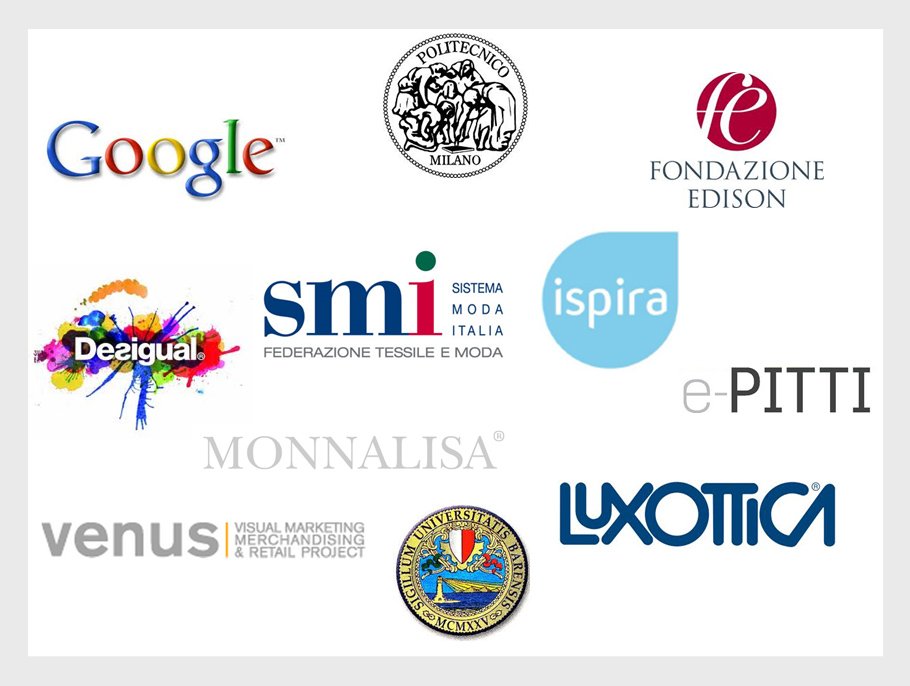 Speakers
> Michele Tronconi, Chairman, Sistema Moda Italia
> Marco Fortis, Deputy Chairman, Fondazione Edison
> Christina Lundari, Sector Leader: Retail, Tech, Telco, Travel, Google Italy
> Giuliano Noci – Deputy Dean, Politecnico di Milano
> Luca Peruzzi – Director, Ispira
> Luca Petruzzellis, Marketing Professo, Univ. Aldo Moro
> Beatrice Rizzi – Partner, Venus
Round Table
> Luxottica, Sergio Azzolari, Global Retail Director
> Desigual, Angelo Ruggieri, Commercial Director
> Monnalisa, Andrea Mattesini, Retail & eCommerce Manager
> E-Pitti Fiera Digitale: Francesco Bottigliero, CEO
Moderator: Luca Peruzzi
info: federica@ispira.com
---
Ispira has attended the seminar organized by SMI and Ispira:
multichannel engagement in retail and fashion
june 8th, 2011
speakers: Michele Tronconi, President SMI; Diego Valisi, Biblioteca della Moda; Fabio Savelli, MD Sita Ricerca; Luca Peruzzi, Director Ispira; Giuliano Noci, Pro-Rector Milan Politecnico; Gianluca Olivieri, Industry Manager Retail Google
Luca Peruzzi, Ispira Director, moderated the round table discussion with: Andreas Schmeidler, Country Sales Manager Vente-Privee.com Italy; Francesco Bottigliero, CEO Fiera Digitale; Giuseppe Giglio, CEO Giglio.com; Natascia D'Isa, MArketing DirectorArav Fashion - Sivlian Heach
for further info: federica@ispira.com
__________________________________________________________________________________________
Retail challenges in the post-recession stage - Workshop - Ispira and Sistema Moda Italia
Milan, 13th October 2009
The workshop has been attended by over 200 guests, speech delivered by Alex Keane, Ispira director, Tim Radley, Ispira director. Press release availablu upon request.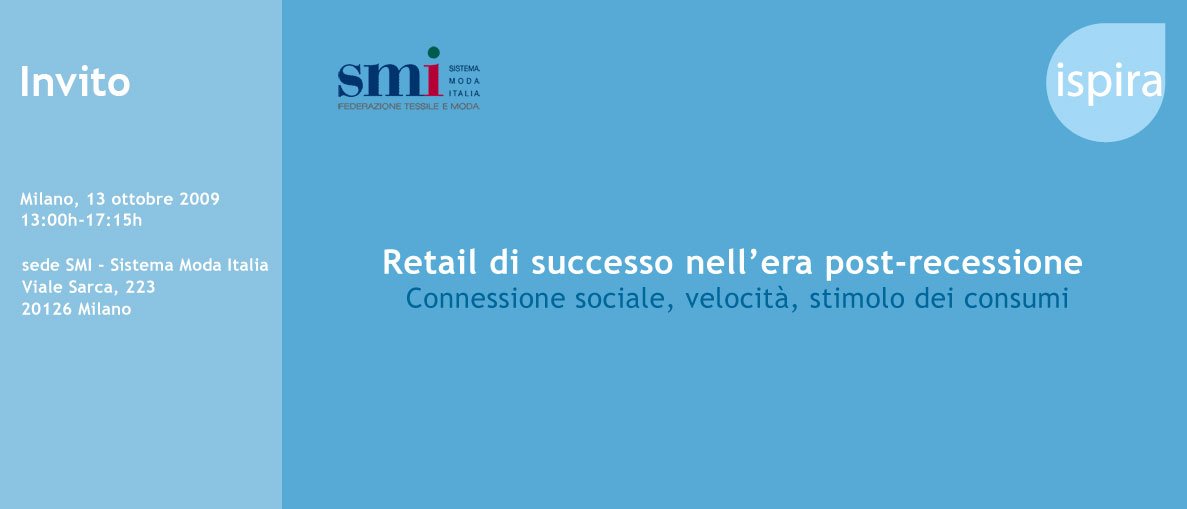 The roundtable, moderated by Luca Peruzzi, has been attended by :
. Marco Agnolin, CEO Zara Italy
. Gianluigi Cimmino, CEO Yamamay e Carpisa
. Domenico Menniti, CEO Harmont & Blaine
. Gilberto Minelli, Marketing Director Peuterey e Geospirit
. Pietro Negra, CEO Pinko
. Matteo Zucchi, CEO Zucchi Group
More info at +39 06 3671 2395 and federica@ispira.com
Participate after at http://twitter.com/Ispira
Ispira Workshop -1st October 2008 - Milan
Ispira has organizedthe workshop 'The New Challenge of Retail Experience'. More than 120 guests attended the event that providedvision, Case Studies and insights from leading internationalretailers.